Inspur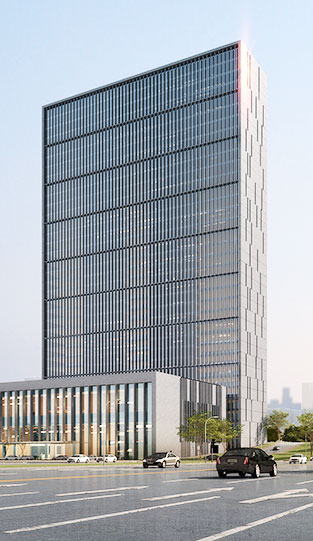 As a leading cloud computing overall solution supplier and cloud service provider in China, Inspur has formed the capacity of overall solution service covering the three levels of IaaS, PaaS and SaaS. Inspur establishes leading cloud computing infrastructure platform for customers by its high-end server, mass storage, cloud operating system and information security technology and comprehensively supports construction of smart government, enterprise cloud and vertical industry cloud based on its e-government, enterprise, industrial informatization software, terminal products and solutions.
Inspur Group owns public companies— Inspur Information, Inspur Software, and Inspur International, with business covering three industrial groups— system and technology, software and service, and semiconductor, providing IT products and services for more than fifty countries and regions in the world, and comprehensively meeting the demand of governments and enterprises for informatization. As the eleventh of top 100 electronic information enterprises in China in 2013, the second comprehensively strongest IT enterprise in China, the top self-brand software manufacturer in China, the second self-brand IT service provider in China, the third of top 500 competitive large enterprise groups in China, and one of the four enterprises with extra grade I qualification for integration of computer information system, Inspur has been awarded significant honors, including "Cloud Computing Innovation Model Enterprise Award", "Cloud Computing Client Application Demonstration Award" and "Outstanding Contribution Award for Information System Cloud Computing". Inspur Server has been the best-selling domestic brand for 18 consecutive years; Inspur storage has been the best-selling domestic brand for10 consecutive years; the management software of Inspur Group has achieved No. 1 market share for 11 consecutive years.
For years, with proactive technology and unique overall strength of hardware and software, Inspur has established a style of its own and led the development of Chinese information industry in the key stage of development of Chinese information industry.
Inspur is one of the earliest IT brand in China. In 1960s, Inspur's predecessor——Shandong Electronic Equipment Factory began producing peripheral units for computer and low frequency high power electronic tube. In 1970s, "Dong Fang Hong I" the first artificial satellite in China, used transistor produced by Inspur as electronic element.
Thus, Inspur began its more than 40 years' IT journey on the basis of technical innovation. In accordance with the concept of innovation, Inspur has led the development of Chinese IT industry by proactive technologies in important historical stages of Chinese information industrial development for several times.